Testimonials
"I just wanted to say thank you for helping us with this. I am working on an underground project and I'm in charge of the crews who are using this fusing machine on a daily basis. This is a very new process in our region and I had to train our National people to use this equipment. I have worked many projects in other countries and doing HDPE pipe fusing along with many other construction projects. I just wanted to pass along to you that we are very impressed with the quality of the Worldpoly equipment and now the level of service you are offering to us. Not only a great product but great service to your customers as well. Thank you once again for your amazing service!"
Steven Parlee
---
"Worldpoly's excellent quality and service makes it one of the world's leading manufacturers of HDPE pipe welding equipment."
Alfonso Serrano,
General Manager
Tecnopipe, Colombia
---
"PS Industrial specialises in making accessories, the installation & assembly of HDPE pipes and selling used equipment. Worldpoly has achieved great acceptance by our customers and end-users. They offer great versatility and perform well in the field, despite our difficult geography."
Alejandro Pairazaman
General Manager
PS Industrial, Peru
---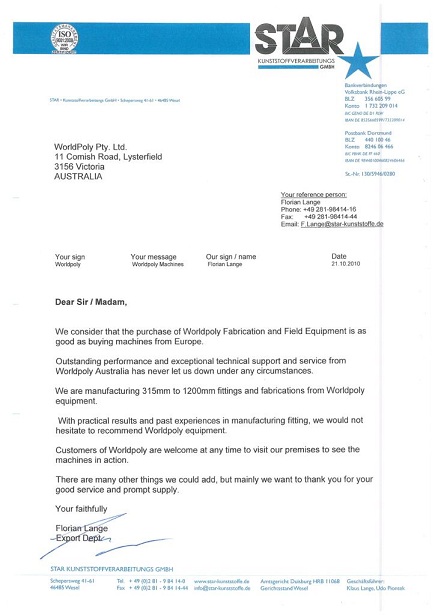 ---
"HDPE pipe is the product used globally by the mining industry for virtually all thermoplastic pipe applications, and the Philippines is no exception. Worldpoly machines have established an enviable high profile track record in the Philippine mining sector, with sales to three major mine construction sites, and a fourth pending.
Worldpoly Butt Welding Machines were chosen by, and are currently in use at the CGA Mining Ltd / Filminera Masbate Gold Project on the Island of Masbate, the Greenstone Resources Siana Gold Project in Mindanao, and at the Oceana Gold Didipio Project, in Nueva Ecija.
Mine construction deadlines in each case require/required the machines to work extremely long hours in often very difficult terrain and weather conditions. The high quality, strength, reliability and dependability of the Worldpoly machines was demonstrated time and again on these projects, enabling project deadlines to be met.
At Masbate, which is currently the largest operating gold project in the Philippines, Worldpoly, as part of their package, trained and internationally certified sixteen welding technicians from the local community for the mine construction contractor, Leighton Contractors Philippines, who often worked 24/7 shifts on the three machines supplied.
The skills acquired through this training and project experience have equipped and enabled these locally employed technicians to pursue new careers in the construction field, and demonstrated Leighton and Worldpoly "Best Practice" in providing training and skills to local communities.
The attached photographs show a WORLDPOLY WHD 630/315 Machine with crane, in use during hands on training at the Masbate Gold Project in the Philippines."
John Cuthbertson
Director Mining and Environmental Division
Infratex Philippines Incorporated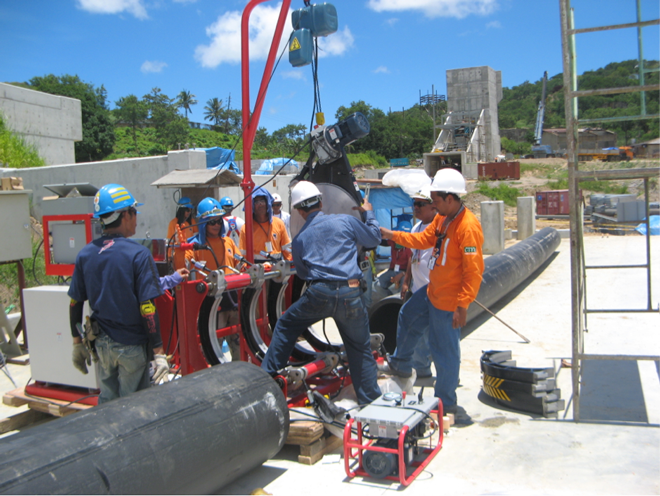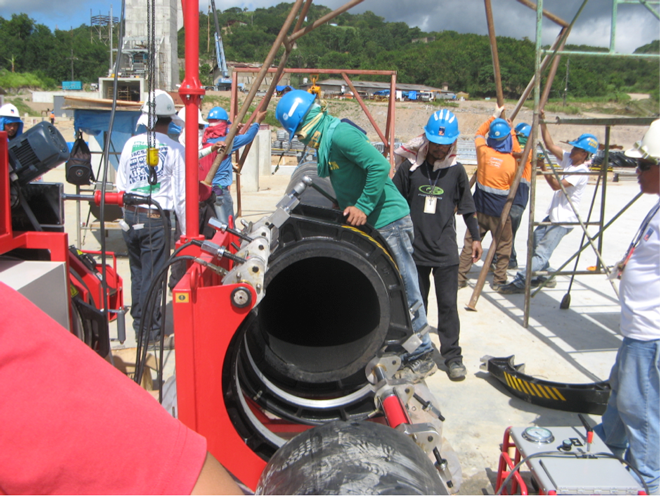 ---
"We have proudly been Worldpolys' distributor in Chile since 2009 and our experience has been more than excellent. The great quality and value of the equipment plus the excellent and fast service response has made Worldpoly a highly relevant player in the Chilean market in a short period of time supplying a wide range of equipment from 160mm machines to small contractors for fish farming down south, construction companies building grids for water supply, installers for cutting edge agricultural projects and all the way up to three 1600mm supplied for BHP´s mega mine Escondida in Antofagasta. Worldpolys' family based human core can´t be equalled, providing the best customer relations and business support you can get. We love the equipment, we love the service and we love the people".
Leonardo Diez
Managing Director
TermoPro Chile