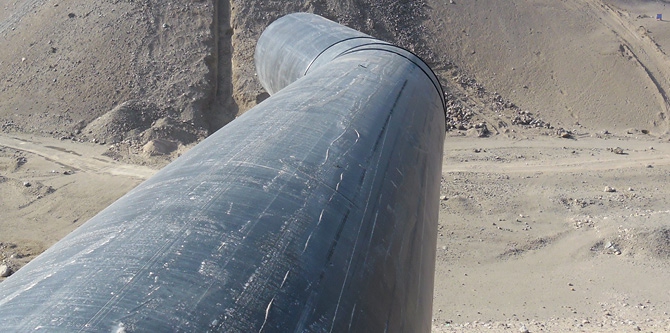 TOUGH MACHINERY FOR A TOUGH TERRAIN
04.08.2013
The desert of Southern Peru is a forbidding location lodged between the Andes, the Atacama Desert and the Pacific Ocean. The landscape is so barren that it will form part of the Dakar 2013 Rally.
MIM was appointed to manage and deliver the Ite Irrigation project – a project to improve the failing irrigation system to the town of Ite in the Provence of Tacna in Peru. To achieve this, MIM installed over 3,000 meters of 1200mm OD HDPE pipe across the harsh desert terrain. Due to geographical difficulties and non-linear pathways, this required the MIM team to execute more than 300 welds along the pipeline.
MIM required welding machines that were not only tough enough to weld the pipes to a consistently high standard, the welds also had to withstand the harsh conditions of the desert for many years to come – Worldpoly was the obvious choice.
Worldpoly's Latin America Manager visited the site and recommended the WHD1200 machine. In addition, Worldpoly trained the MIM team in the use of the WHD1200 to ensure the machine was being used to produce optimum results. MIM was so impressed by the performance of Worldpoly's machinery they immediately purchased a second 1200 machine.
With the aid of the WHD1200, MIM was able to complete this tough project ahead of schedule and within three months. "That's just another great example of how we can help improve the operation and reputation of your business", says Worldpoly Managing Director, Robert Hall.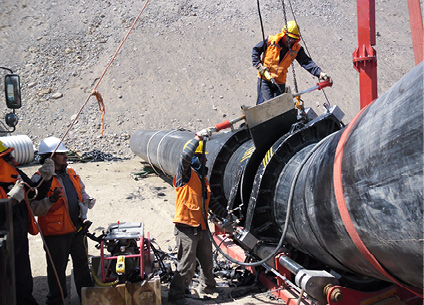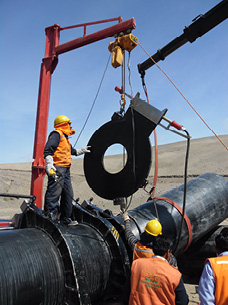 For more information, email sales@worldpoly.com